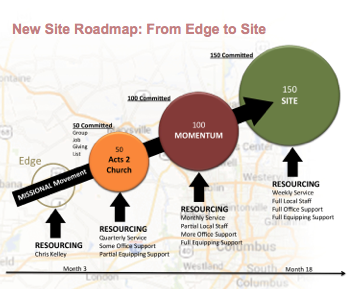 Vista is one church in multiple locations. We didn't set out to be a multisite church, but found ourselves here as God led us to reach more people in our local communities. Vista is always expanding outward toward the Gospel's Edge, where those who don't yet know Jesus are.
Multisite is one of the greatest evangelistic tools that the American Church has grasped onto in decades. There's more new believer growth in the church through the multisite model than almost any model that's been tried. It requires the church to be the church. It can't be on the shoulders of staff and "professional Christians." (Click here for more great info on MultiSite church). Multisite is not the mission but the vehicle.
At Vista, we're not trying to erect a bunch of Vista sites, rather, our mission is to be a movement of communities at the intersection of Jesus and real life. Our vision is to be a multiplying church of worshipful, relational, missional people across Ohio and around the globe.
We're keeping our eyes and hearts on the mission and vision God's given us, and He continues to press us out to the Edge. As part of our series "Sent: The Gospel of Luke," we've talked the past couple weeks about one of our missional communities — Hilliard — where a group of folks is getting to know more of their neighbors, is gathering for prayer, taking part in community events, and experiencing multiplication of Lifegroups and leaders. This missional community is truly on the Gospel's Edge, hoping to move toward a Vista site in the future.
Above is a graphic we've been referencing as part of our vision casting conversations. It's a "timeline" of sorts, to help us as we move toward a site. Here's a breakdown of each step in the roadmap:
The Edge: Where future Vista sites begin; a missional movement in a local community where a group of pioneers is committed to the Gospel.
50 People: At this level, folks are in a group, are serving, giving and have a list of 10 people they're praying for who don't yet know Jesus. They have a quarterly service, and receive some office and equipping support.
100 People: Momentum grows and a monthly service is recommended, partial local staff is hired, more office support is given and full equipping help.
150 People: A hopeful site on the Edge becomes a Vista Community Church site, with a weekly service, full-time local staff, full office and equipping support.
Where are you in this missional community / Gospel's Edge conversation? Are you involved in a group? Are you praying for 10 people in your community who don't yet know Jesus? As a missional church, we are all in this together to live on the Edge, where those who don't yet know Jesus are. Press on, Church!