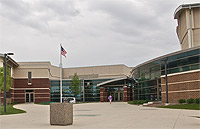 Saint Jerome, a Roman Catholic priest and apologist lived primarily in the 4th century, and is chiefly remembered as the writer of the Latin translation of the Bible  –  the Vulgate.  In art, he's often represented as one of the four Latin doctors of the Church along with Augustine, Ambrose, and Pope Gregory I.  But one might argue that his crowning achievement was when he designed and built the High School in northwest Dublin aptly named: Jerome!  So, if that doesn't get you excited about our big move this weekend, I can't imagine what would!
After a wonderful 20-month run at Coffman High School, we will be driving our truck and trailer instead to Jerome High School, 3.7 miles further West.  We're leaving on good terms and likely just for the summer while Coffman makes renovations on the section of the building we currently meet in.
A great partnership has been built with the Coffman administration and we have much to be thankful for in them.  They have been more than supportive as we have continued to demand more time and space. On our behalf, they even went so far as to arrange our move with the Jerome administration.  Please join me in offering our thanks to the Dublin School District and Coffman High School whenever you have the opportunity!
I'm actually very excited about this summer change. First, I like change … it brings new and better systems, a refreshingly new environment, and needed involvement from folks looking for ways to serve.  But maybe most of all, I'm excited for the people and community surrounding Jerome High School.  God's up to something special with us, and we would love to share it.  How many churches have the flexibility to move 4 miles to reach and impact a whole new bunch of people?  That's what we have!  I know some of you may have a slightly longer drive  –  I know I will  –  but many of you will now have our church almost literally in your back yard. What a great opportunity for you!  Invite somebody this week!  Let's make the very best of our new situation  –  it might just end up being awesome!  Geronimo! (Jerome's cousin).