I run my blogs by a council of wise friends before posting them in order to reduce the chances of pubic embarrassment and/or misspeaking. One of my friends suggested this one was less "silky" than usual! I don't recall silky and my blog ever being equated, but I got the point and thought he was actually quite insightful. I've written here with far less concern about flow and phraseology…I just wanted you to hear and know some stuff straight up. So, be forewarned, this blog has more stuff and less silk!?!
INDIA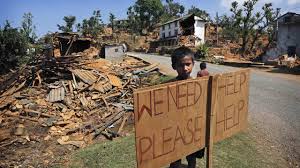 I'm rarely so bold regarding money. Yet, I continue to blatantly ask everyone who considers Vista home to prayerfully seek God regarding a one-time gift (of any amount) or a 2-year commitment (for example: $20, $25, $50, $75 or $100 per month) to our new orphanage in India. In any case, if you do, we will match your gift (from our missions savings) and send it for Nepal earthquake relief. We've already sent nearly $12,000 directly to a pastoral team in Nepal!!  Way to go church!  Part of the reason I am pressing for everyone to jump on board with our current Indian orphanage, is because if we can get that orphanage fully supported, we could take measures to try to get another (colossally needed) orphanage started in Nepal. (And don't forget we have a team going to India in June!)
HILLIARD
I didn't want anybody to forget who is working to start a new Vista community in Hilliard…WE are. It's not just Pastor Chris or the Vista-Dublin folks (who live in Hilliard), but it is ALL of us praying, helping, sacrificing and working toward the success of a new Vista community in Hilliard. Don't worry. When God leads he provides.
The Kingdom is not a scarcity-based, but a resource-rich economy. You can lean into God's call to "go" (Matt 28) without concern for resources. God supplies our every need (even in abundance) when we go where he calls. Alternately, if we operate from a scarcity-based foundation we tend to tighten our purse-strings when things change or when risk is introduced…we tend to hold back rather than lean in because we're afraid of what might happen to "me" or to what "is mine." But God's economy is one of faith…faith that he WILL provide…will never leave us…and never test us beyond what we can handle.  Your current giving not only helps Vista keep going locally in our communities, in support of Young Life, food pantries, and downtown at The Bridge, but also your giving is pressing the gospel out…through 18 churches in Kenya, 1 orphanage in Cambodia, 1 orphanage in India, small groups in Marysville and a movement in Hilliard that could form into a new community! It's happening! God is using Vista…using you…to carry out the great commission!  Keep trusting…let's keep going.
The Vista-Hilliard movement is organizing a Informational Meeting for Sunday evening, June 14th. Please think about all the friends, acquaintances, and associates that you have that might be interested in this and invite them to join us. All are welcome.
GOD
Not only in these cases is God's Spirit moving and strengthening the hearts of those who love him, but God is working in innumerable ways all around the globe. If only we could know all of the ways…  Don't forget to look at your own life and into your own heart and see how God is showing up, transforming, strengthening, counseling, convicting, and offering grace and mercy always…   One of the most beautiful things in life is the church…the followers of God…participating in His story of redemption and restoration. Your in it. A part of it! Rejoice and be thankful!!