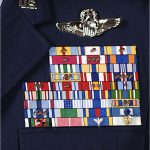 My years in the U.S.A.F. were full of the things any veteran experienced: country, combat, challenges, comrades, and commendations. Even those of us who didn't see combat received commendations.  A commendation is public recognition for anything from the basic execution of expected duties to unexpected acts of heroism beyond the call of duty.
In any case, there would eventually be a formal ceremony with peers, family and high-ranking officials in attendance, a short reading of the praiseworthy action, and the pinning-on of a medal. An accompanying ribbon worn over the heart was a personal reminder and a visible declaration to the world that you had contributed something of great value.
That's what Jefferson and the framers of the Declaration of Independence meant with the use of the word happiness in the phrase, Life, liberty and the pursuit of happiness: Meaning. America's founders attempted to build a framework for a new nation wherein every life would be free to meaningfully contribute to its substance and success.  Meaning and happiness "back then" had to do with the measure of your sacrifice and contribution to others and/or the greater good [Speaking of "the greater good," and for a light-hearted moment, this is one of my favorite Pixar scenes].
US Supreme Court Justice Anthony Kennedy explained this often forgotten sense of happiness in his 2005 lecture at the National Conference on Citizenship: For the framers of the Declaration of Independence "happiness meant that feeling of self-worth and dignity you acquire by contributing to your community and to its civic life."
Unfortunately, meaning and happiness have been twisted from their virtuous moorings and re-attached to nothing at all – self-esteem. The prevailing culture defines meaning and happiness largely with how you feel, worse, how others make you feel. Today, happiness is rooted in "hedonism" or self-gratification, or a search for a sense of approval. We make a grave mistake when we put our search for meaning and happiness into the hands of others. That is, when others are made to be the judge and jury of whether or not you/I are meaningful.
God cuts through all of that. He created you, so he knows what makes you meaningful. He created you to do good things, and to live in a mutually encouraging community, but He didn't design you to consolidate your meaning from either what you do or who approves of you (Apostle Paul). Instead we are to draw our meaning simply from being His.
I've been fortunate to have parents who help me understand this. I understand what it means to be unconditionally loved in this world. Almost nothing in the world is more meaningful than the approval of those who brought you into the world. Not all of us have that privilege, but in Christ we receive the same blessing Christ did,
And a voice from heaven said, "This is my Son, whom I love; with him I am well pleased."
You have meaning because your Creator says you're meaningful. Searching elsewhere leads only to despair.