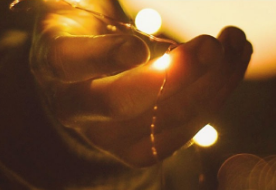 This week at Vista I spoke about generosity. It was decent…I think. Consider listening. In a nutshell, throughout Scripture we see God concerned far more about who you are than he is about how you behave. He clearly cares about both, but he clearly cares about the core of who you are, most. And there's actually something we can do about or heart, rather than just hiding it.
And at least in part, the reason he cares about your heart is that it's God's desire to use the good hearts of his people to channel his heart into the world. Let that sink in. God has determined rather than fix the world in a flash, to fix it instead through the pure and good hearts of his kids…the church.
We see the flaw in that plan pretty quick, right? We know our hearts.
We know that too often we have selfish, even ugly thoughts and attitudes, and that even some of our best unselfish actions are at least laced with selfishness (Ie., I do kind things for others or for God…so that they will embrace me, or do something for me. I scratch your back; you scratch mine).
And since (if we're honest) we know our hearts aren't all that great, we hide them and just focus on behaving. Even some of the first human's exhibit this nature. God didn't appreciate Cain and his offering even though his offering was pretty decent. Cain's heart wasn't right. (And therein lies the infuriatingly good/bad news: God sees your heart.)
But God's plan isn't to change the world with good offerings and behavior (that doesn't work anyway). God's plan is to change the world toward good, by working deeply to turn people toward genuinely good hearted people.
God wants your heart.
Matthew 12:30 (Deut 6:4) Love the Lord your God with all your heart and with all your soul and with all your mind and with all your strength.
Hosea 6:6 For I desire steadfast love and not sacrifice…
And here's the catch. You can't acquire a good heart. There's nothing you can gain, learn, or fix in your circumstances that's going to deeply change your heart. Good hearts aren't developed from the outside in, but the inside out.
Jesus warns (Luke 12) us to beware of all sorts of greed – that life cannot be found from getting stuff. As always scripture (Proverbs 4)  supports Jesus: Life flows from the heart. And (Proverbs 22): that the generous will be blessed.  (Wait, stop. Don't go there. No, "blessed" doesn't mean good health, a raise, good kids, marriage, unexpected benefits, or pleasant weather during a long-planned  vacation. Of course, be thankful for such things.) Remember, please remember that when the Bible speaks of blessing its speaks predominantly of one thing: the presence of God.
So, a little quiz: What does God promise the generous person?  Things, pleasantries, comfort, improvement? Nope. Him.  Biblical blessing is the presence of God! (That might be strangely disappointing if your hope have been in stuff, but by chance if God is actually more deeply filling than stuff is, this is Good News).
Now, put this all together.
God wants to change your heart to be like his so that his heart can live through you and change the world. And how do we gather the heart of God into our heart? Not by getting something. Not by fixing anything. Not by pouting or by whining or by complaining about our weak hearts or how little we have.
We find the life of God and give the life of God by freely giving whatever we have, and trusting the Giver of life with everything else.
Think about the generosity of God, particularly in Jesus. Wow.
Generosity may just be the key to everything.
Oh, btw, some of your dropped that Generosity Card into the basket. I truly, truly appreciated your quick responsiveness, thank you. I wasn't clear, but I didn't intend for you to turn those in. Please use them as a prompt for your consideration and prayer for how you will begin or continue your generous giving to the church. And then keep it handy as a reminder to follow through.
FYI, with that Generosity Card, I reminded you that the primary point of giving is the influence and freeing of your own heart, but also that you should not diminish the impact of your consistent gift: A consist $10/week gift from everyone who currently doesn't give adds up to over $100,000, and if everyone who gives follows through 100% in their commitment also amounts to over $100,000, plus a simple 1% increase (ie 3% to 3.3%) from those with many resources all adds up to another $100,000 increase in our overall financial plan.
Do you see what I'm saying?  It's not how much, it's power of community and addition. Generosity is generosity. In addition to a new life, can you see what your consistent gift combined together adds?!?  That's 1 more new church building every year for Pastor Dan's association of churches in Kenya; AND 10 more kids off the street and into an Asia's Hope home, AND 3-4 new students, kids or support staff; AND better spaces for all campuses, just to name a few things!
Did I use enough parenthetical thoughts in this piece? Yeesh.