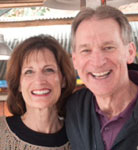 Tim Clark, Vista elder and leader… our brother…who poured out his life for his Lord and Savior, for his family and for his friends, has nothing left to pour this side of heaven. He is now emptied of all the insufficiencies and sicknesses of life this side of heaven and instead filled with joy and filled to completion in the presence of Jesus. Tim went home to be with Jesus at 11:58pm, Mon., Jan. 19, 2015.
Tim Clark was a true gift and his departure is a terrible loss that saddens us deeply and his family immeasurably. Please pray for the Spirit, who has so faithfully carried Mary and the family through all of these months and final days, to bring an equal measure of strength in the days ahead, in transition to life in his absence, and in the ministry He will certainly put before them (and us) as a result of the beacon for God that Tim and his family have been and will continue to be…
Tim fought to the very end and used his "privileged space" to point people to Jesus. He wanted to "finish well" and that he did. Vista has been impacted immensely by the Clarks' story of steadfast faith and perseverance, modeling for us what it meant to follow Jesus in every part of life, even the most difficult. We were the ones priviledged to have the Clarks' story as part of our last two Christmas programs, "More than Enough" and "Tapestry," and undoubtedly, God used their story to touch the thousands who were in attendance. We have learned great lessons from Tim's suffering, and are deeply grateful.
For more on Tim, you can read his obituary, and consider attending his calling hours or funeral service, this Fri., Jan. 23, from 4-7 p.m. at Schoedinger Worthington Chapel (6699 N. High Street, Worthington, just south of 270). The funeral service will be held at 10 a.m. Sat., Jan. 24, at Dublin Baptist Church (7195 Coffman Road, Dublin). A private burial will follow at the Dublin Cemetery.
From Tim when he was recently diagnosed in Sept. 13…(read the full post here)
I am living  in a privileged space. In God's sovereignty, I'm given this time to relate a few observations. My purpose in doing so is from a sense of obligation…to my family, to my friends, to others who find something salient here about life.  To those who are questioning and asking "why?" As I try to process how God works, my focus is on:
Living life, not fear death.  My desire is allow others to learn and avoid a lost opportunity about where true purpose, not futility is found in relationship with Jesus.
No guilt. My comments and focus aim to encourage, not guilt anyone into anything. There is no condemnation. We are free in His Spirit.
Hope. That sounds like a crazy idea and one that  is polar opposites from terminal brain cancer.
Now that's the Tim we know and will always remember.