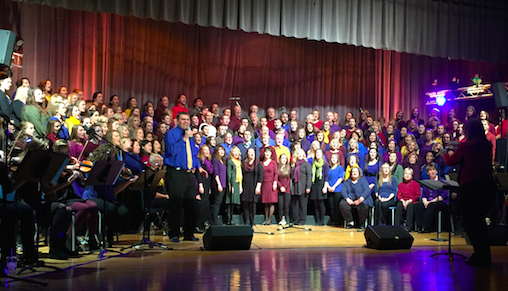 We were thrilled just to be in Marysville and excited to share the stories of God in our lives to whomever and however many stopped by Marysville High School last evening. It's the first year we've taken the Christmas Program "on the road" in alignment with our MultiSite approach to church gatherings and we really didn't know what to expect. With Vista Sites in both Dublin and Worthington and early-stage Movements of 50+ folks in each of Hilliard and Marysville we thought it was time to see what happened if we followed Jesus into those new communities with our annual Christmas program.
Estimates ranged from 50-250 as we wondered how many folks might respond to the personal invitations that were circulating around the friends and acquaintances we have in Marysville, and considering those that might be making the trip out to support the Movement or knew they wouldn't be able to attend Tapestry next weekend in Worthington and Dublin.
The first program usually has some bugs, but last night was rock solid. The choir was passionate, the orchestra and dramatists were exquisite, and the tech team was phenomenal. Most importantly, the Gospel was crystal clear and the Spirit graciously and powerfully filled the Message we offered.
You can imagine our shock when the house lights were lit following the finale and we saw only 100 seats vacant in the 600-seat High School auditorium. Each of those 500 are people, and each of us are challenged to keep trusting God, trust him again or take an initial step of faith. We prayed and invited everyone to take a step in Jesus name…and the stories are already rolling in:
One who brought a few friends was asked, "Could a guy like me go to your church?"  To which he humbly responded, "I'm a guy like you."
Yep. Me too. Thank you Jesus for the message of mercy and grace you spoke into my heart again last night…