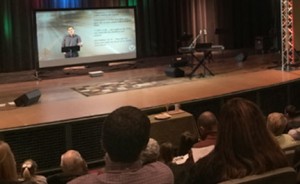 What a fantastic question!  An utterly logical question. Why, if he's available, would we watch a facsimile of Pastor Mike, when we could have the real flesh & blood deal? Here are 4 reasons you might see me in church on a Video Sunday in the future.
I love the church
For me, a weekend off doesn't mean that I don't want to be with you – the people of God, celebrating the Son of God, reading the written Word of God and being filled up by the Spirit of God to be strengthened to stay on the Mission of God. We planted Vista nine years ago because we believed there was a portion of the Army of God that was in need of encouragement and under utilized, and there were those that God was preparing to be part of the Family of God that needed a unique invitation and opportunity to find it. You are those people, and I love you…I like hanging out with you…and on a Sunday with Video at every Site I can spend a little time with all of you!
My work is done
The most demanding part of a Sunday sermon is the preparation. As a team we spend in excess of 20 hours per week combined preparing a message as Jesus-centered and scripturally sound as we possibly can. And then another 10 hours per week forming it to be delivered in a way that as many as possible can comprehend the Word and are inspired to apply it. And even when we're all done, I keep working on your behalf throughout Saturday and again on Sunday morning. Nothing is more important to me than properly handling the Word for the sake of the church. When we record video, I'm done preaching by noon on Friday which means "my work is done," and I can rest during the weekend in ways that I cannot 48 other weekends of the year.
I can worship more freely
With message prep and a recording done by Friday afternoon, come Sunday morning, I am personally more emotionally and mentally rested and available! You might not be able to detect the difference, but for me it means I'm also more available to connect and worship our God. Without preparations and critiques rushing through my mind and veins, I can instead focus on God and hear some unique challenges and encouragements from God that my heart needs.
I have accepted my part
Although I accept it reluctantly, you, staff and elders have reinforced to me over time that God has gifted me to preach to this local part of God's church. And we have determined that part of our multisite and church expanding mission includes my role as a central and consistent part of the public proclamation of the Word of God, the gospel. The only way to do that while remaining true to God's call to "Go. Make disciples…" (Matthew) "and multiply" (Genesis)…to launch new Vista Communities for Jesus sake is to practice and leverage the technologies that are available to us.
Thank you for embracing video and me
We're comfortable with Video messages because we have always believed that the the Word of God is to be heard, but even more importantly, to be done…to be applied in our lives. How the Word of God is heard is far less critical than how it is done. Hearing can come in many forms: a book, a tape, a CD, a story, a dance, a rap, a poem, a mime, an ASL interpreter. In every way possible the Word should be broadcast, but still the practical application is the true and God-glorifying end. Critiquing how the Word comes is too often a smoke screen keeping us from seeing the more challenging work of how God wants to apply it in our life. Me included.